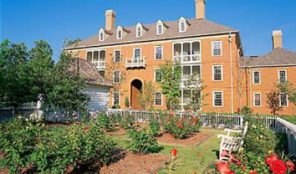 Unit Size/View:
2 Bedroom 2 Bathroom
Sleeps: 8
Price: $2,500
Maintenance Fees: $1321.00
Annual/Bi-Annual: Annual

More Info
The Marriott timeshare resort of Marriott's Manor Club at Ford's Colony is nestled within an exclusive, gated 3,000-acre planned community boasting the Williamsburg region's most acclaimed golf and dining.  Surrounding this beautiful Marriott timeshare resort are some of the most iconic spots in our nation's glorious past, including Yorktown and the amazing Jamestown Settlement replica, where costumed historical interpreters describe and demonstrate daily life in pre-Revolutionary War America.
The Marriott timeshare resale resort gives easy access to all that Williamsburg has to offer in fun modern-day attractions for the whole family. Thrill to fantastic rides at the Busch Gardens Williamsburg theme park, or cool down at Water Country USA. This Marriott timeshare resale puts you in a perfect position to enjoy the best of everything this family destination has to offer.
Marriott's timeshare at Manor Club requires a 30 day ROFR.
To view the complete list of Marriott Vacation Club Right of First Refusal Policies by individual Marriott timeshare resale resorts, click on: Marriott Vacation Club Right of First Refusal Policy List of Resorts
Marriott Manor at Ford's Colony 2017 Maintenance Fees
Marriott Vacation Club 2017/2018 Points Chart 
Marriott Vacation Club Benefits Chart
To review the history of Marriott Vacation Club timeshares through 2016, click on:  Marriott Vacation Club History and Update
Marriott's timeshare at Manor Club – Villa amenities:
Select 2 bedroom villas offer a Lock-Off option, enabling you to create separate units; one with full kitchen, living and dining areas, and the other with a kitchenette.
Master suite with king size bed and over size soaking tub and/or shower in the master bath
In villa washer and dryer
Marriott's timeshare at Manor Club  – Resort amenities:
The MarketPlace convenience store
Heated outdoor pools with whirlpool spas and a heated indoor pool
The Spa at Manor Club offers full spa treatments and salon services
Sports court, shuffleboard court, two fitness centers, bike rentals, biking and jogging trails
Showtime Movie Theater
Kid's and teen's activity center and game room
Kid's playground
Daily activities program for all ages
Marriott's timeshare at Manor Club  – Activities:
Visit more than 30 beautiful and exotic-themed gardens at the nationally recognized Norfolk Botanical Garden
Experience pre-Revolutionary War America at Jamestown Settlement, where costumed historical interpreters describe and demonstrate daily life in the early 17th century
At Yorktown, visit colonial dwellings that stood during the siege of 1781, when Washington won the Battle of Yorktown to secure our nation's independence
Visit the maritime-themed science center, Nauticus, to experience hands-on exhibits, interactive theaters, aquariums, digital high-definition films and more
Discover the Virginia Air & Space Center's historic aircraft, including the Apollo 12 command module that went to the moon
Shop for brand-name values at the Prime Outlets at Williamsburg
Don't miss the more than 70,000 items at the 200-acre Williamsburg Pottery
Spend a fun-filled day at area theme parks, including the world-class Busch Gardens Williamsburg and the thrilling water rides and attractions of Water Country USA
Enjoy a wine-tasting tour any time of year at The Williamsburg Winery and receive a monogrammed glass as a souvenir
For additional information, check out our video and blog resources:
Video:
What to look for when buying a timeshare resale:
Blog articles:
Marriott Right of First Refusal 2014 Update
Marriott Vacation Club Announces New Owner Benefit Levels 2015
Marriott Vacation Club Basic, Premier and Premier Plus Status Benefits Defined
Marriott's Legacy Weeks Resale Defined
How Marriott Destination Club Points Work
Marriott's Destination Club Points Resale Costs
Marriott's Destination Club Points Program resale and retail
Buying a Marriott timeshare resale on the secondary market is much less expensive than purchasing direct from the developer because of the fact that the developer incurs marketing costs that are passed on to the consumer. It is the developer who sets the price on the retail market. On the secondary market of timeshare resale, prices are determined by individuals and current market conditions.
A timeshare interval should be purchased for enjoyment. The purchase of a Marriott timeshare resale ensures that you will be able to vacation and spend quality time with your family and friends each year. You might want to think of it as vacation insurance for all your future vacations!
Syed Sarmad, Principal Broker for Advantage Vacation 
Buy a Timeshare