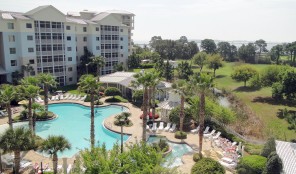 Unit Size/View:
2 Bedroom 2 Bathroom
Sleeps: 6
Price: $5,500
Maintenance Fees: $1216.44
Annual/Bi-Annual: Annual

More Info
You'll find this Florida timeshare resale resort amid the quaint waterside community of Bay Point near Florida's magnificent Gulf Coast.  Perched on scenic Grand Lagoon and surrounded by 36 holes of championship golf and soothing water views, the Marriott timeshare resale resort of Marriott's Legends Edge is an ideal getaway for truly unforgettable vacations.
Panama City Beach is the jewel of Florida's Emerald Coast, boasting more than 300 sunny days each year and an average year-round temperature of 74 degrees. You are invited to immerse yourself in tranquil waters famed for fishing, watersports, sailing and yachting. To the west, the Bay Point Marina is the ideal launching point for sport fishing, and magnificent waterfront views.
Marriott's Legends Edge requires a 30 day ROFR.
To view the complete list of Marriott Vacation Club Right of First Refusal Policies by individual Marriott timeshare resale resorts, click on: Marriott Vacation Club Right of First Refusal Policy List of Resorts
Marriott Legends Edge 2018 Maintenance Fees 
Marriott Legends Edge 2017 Maintenance Fees
Marriott Vacation Club 2017/2018 Points Chart
Marriott Vacation Club Benefits Chart 
To review the history of Marriott Vacation Club timeshares through 2016, click on:  Marriott Vacation Club History and Update
Marriott's timeshare at Legends Edge  – Villa amenities:
Luxurious and spacious one bedroom, two bedroom and three bedroom villas with select 2 and 3 bedroom villas offering a lock-off option, enabling you to create separate units; one with a full kitchen, living and dining area and the other with a kitchenette.
Master suite with king size bed, oversize soaking tub and separate shower
Fully furnished private balconies and porches
In villa washer and dryer
Complimentary Internet access
Marriott's timeshare at Legends Edge  – Resort amenities:
Zero entry outdoor pool with whirlpool spa, children's pool
Fitness Center
Daily activities program for all ages
Marriott's timeshare at Legends Edge  – Activities:
Test your game at the Nicklaus Design Course at the Bay Point Resort Golf Club, known as one of the most challenging golf courses in Florida
Explore the Man in the Sea Museum to learn about man's attempts to travel, live, work and play underwater
Enjoy the wonderfully fresh and abundant seafood available in the Seafood Capital of the World
Learn about marine life at Gulf World Marine Park, a popular local attraction featuring animal exhibits and an aquatic center where you can enjoy dolphin, sea lion and tropical bird shows
Experience St. Andrews State Park for biking, boating, fishing and swimming at unusually pristine beaches
Spend a day at Panama City Beach
Take a boat to Shell Island for swimming, sunbathing and magnificent shelling
Charter a yacht from the Bay Point Marina for a day of sportfishing
For additional information, check out our video and blog resources:
Video:
What to look for when buying a timeshare resale:
Blog articles:
Marriott Right of First Refusal 2014 Update
Marriott Vacation Club Announces New Owner Benefit Levels 2015
Marriott Vacation Club Basic, Premier and Premier Plus Status Benefits Defined
Marriott's Legacy Weeks Resale Defined
How Marriott Destination Club Points Work
Marriott's Destination Club Points Resale Costs
Marriott's Destination Club Points Program resale and retail
Buying a Marriott timeshare resale on the secondary market is much less expensive than purchasing direct from the developer because of the fact that the developer incurs marketing costs that are passed on to the consumer. It is the developer who sets the price on the retail market. On the secondary market of timeshare resale, prices are determined by individuals and current market conditions.
A timeshare interval should be purchased for enjoyment. The purchase of a Marriott timeshare resale ensures that you will be able to vacation and spend quality time with your family and friends each year. You might want to think of it as vacation insurance for all your future vacations!
Syed Sarmad, Principal Broker for Advantage Vacation 
Buy a Timeshare