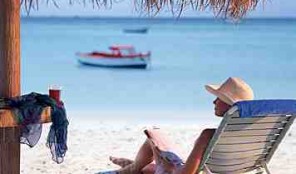 Unit Size/View:
2 Bedroom 2 Bathroom Lockout Oceanview
Sleeps: 8
Price: $9,000
Maintenance Fees: $1900.81
Annual/Bi-Annual: Annual

More Info
The beautiful Marriott's Aruba Ocean Club sits amid a sprawling resort playground that includes the sister resort of Marriott's Aruba Surf Club, as well as the fabulous Aruba Marriott Resort & Stellaris Casino.
Marriott's Aruba Ocean Club is the ideal retreat in this tropical destination, surrounded by soft white sand beaches and sparkling turquoise waters. Boasting some of the world's most coveted beaches, Aruba is the foremost windsurfing destination in the Caribbean and this Marriott timeshare is the ideal place to relax and soak up the sunshine and enjoy the Caribbean sunsets.
As a Marriott timeshare owner, you'll also have access to the luxurious amenities at the neighboring Aruba Marriott® Resort & Stellaris® Casino and the world-class Mandara Spa. From Marriott's Aruba Ocean Club, you'll enjoy picturesque views plus proximity to the island's many delights, including watersports, duty-free shopping and exciting nightlife.
Marriott's Aruba Ocean Club requires a 30 day ROFR and a No Waiver Fee.
To view the complete list of Marriott Vacation Club Right of First Refusal Policies by individual Marriott timeshare resale resorts, click on: Marriott Vacation Club Right of First Refusal Policy List of Resorts
Marriott Aruba Ocean Club 2017 Maintenance Fees
Marriott Vacation Club 2017/2018 Points Chart 
Marriott Vacation Club Benefits Chart
To review the history of Marriott Vacation Club timeshares through 2016, click on:  Marriott Vacation Club History and Update
Marriott's timeshare at Aruba Ocean Club  – Villa amenities:
Luxurious and spacious one bedroom and two bedroom villas with select two bedroom villas offering a lock-off option, enable you to create separate units; one with a full kitchen, living and dining area and the other with a kitchenette.
Master suite with king size bed, oversize soaking tub and separate shower
Spacious fully furnished private balconies and porches
Washer and dryers available in Laundry Rooms on most floors
Complimentary Internet access
Marriott's timeshare at Aruba Ocean Club – Resort amenities:
Beachfront access
Outdoor free form pool and whirlpool spas
A la carte dining at Pavilion Grill
Champions Sports Bar & Restaurant
Full service Mandara Spa
Tennis court, basketball court, ping pong and billards
Barbecue grills
Marriott timeshare resale owners also enjoy access to the Aruba Marriott Resort and Marriott's Aruba Surf Club amenities (some fees apply) which includes:
Restaurants and lounges (La Vista, Ruth's Chris Steak House, Simply Fish, Waves Bar & Grill and Captain's Galley)
The MarketPlace convenience store
Fitness Center
Volleyball and shuffleboard
Aruba Marriott Resort free form pool
Stellaris Casino
Matey's Hall, Bon Bini Kid's Activity Center, The Den and a video game rooms
Marriott's timeshare at Aruba Ocean Club – Local Activities:
Visit the Aruba Watersports Center to rent a kayak, try wakeboarding or attend a sailing school
Try a catamaran cruise for some out of this world snorkeling
Explore the underwater world via an air-conditioned submarine
Enjoy breathtaking views from a number of challenging golf courses
Explore Busiribana gold mines, visit Alto Vista Chapel or take a jeep tour to explore the Ayo Rock Formations and Arikok National Park
For additional information, check out our video and blog resources:
Video:
Marriott's Legacy Weeks Resale Defined:
How to sell your Marriott timeshare:
Blog articles:
 Marriott Right of First Refusal 2014 Update
Marriott Vacation Club Announces New Owner Benefit Levels 2015
Marriott Vacation Club Basic, Premier and Premier Plus Status Benefits Defined
Marriott's Legacy Weeks Resale Defined
How Marriott Destination Club Points Work
Marriott's Destination Club Points Resale Costs
Marriott's Destination Club Points Program resale and retail
Buying a Marriott timeshare resale on the secondary market is much less expensive than purchasing direct from the developer because of the fact that the developer incurs marketing costs that are passed on to the consumer. It is the developer who sets the price on the retail market. On the secondary market of timeshare resale, prices are determined by individuals and current market conditions.
A timeshare interval should be purchased for enjoyment. The purchase of a Marriott timeshare resale ensures that you will be able to vacation and spend quality time with your family and friends each year. You might want to think of it as vacation insurance for all your future vacations!
Syed Sarmad, Principal Broker for Advantage Vacation 
Buy a Timeshare