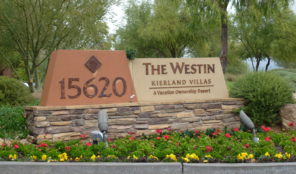 Unit Size/View:
2 Bedroom 2 Bathroom Lockoff 81,000 StarOptions
Sleeps: 8
Price: $4,900
Maintenance Fees: $1603.86
Annual/Bi-Annual: Annual

More Info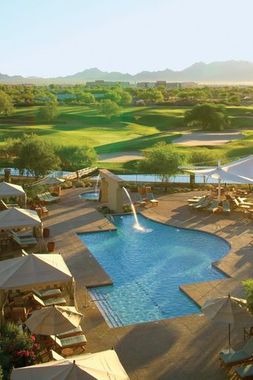 Unit Size/View:
2 Bedroom 2 Bathroom 81,000 StarOptions
Sleeps: 8
Price: $5,500
Maintenance Fees: $1603.86
Annual/Bi-Annual: Annual

More Info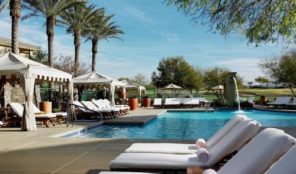 Unit Size/View:
2 Bedroom 2 Bathroom 148,100 StarOptions
Sleeps: 8
Price: $17,000
Maintenance Fees: $1603.86
Annual/Bi-Annual: Annual

More Info
Located only ten miles from historic downtown Scottsdale, Westin Kierland Villas timeshare resales are set on 10 beautiful acres amid the 730-acre master-planned community of Kierland where Native American, Spanish, and Western influences blend to define unique and distinctive experiences.  This Arizona timeshare resale is an AAA Four Diamond rated resort and offers everything you would expect in the way of exceptional shopping, dining and entertainment.
The Westin Kierland timeshare resort reflects the earthy colors seen in the state's most famous landmark, the Grand Canyon and invites guests to relax in the solitude of the desert or with luxurious spa treatments at Agave, The Arizona Spa.  Agave is among the world's finest retreats for mind, body and spirit which features traditional native treatments handed down from Arizona's diverse cultures of healing and inspired by the moisture giving agave plant which is indigenous to the southwest desert.
The Troon-managed Kierland Golf Club provides Westin timeshare owners three immaculate 18-hole combinations from the championship-style nines of the Mesquite, Acacia and Ironwood which are named for trees dressing the greens. Add in the beauty of the surrounding mountains and lakes, 300 plus bunkers and elevation changes of as much as 75 feet and you've got a round (or rounds) of memorable and challenging golf.
This Westin timeshare resort feature two-bedroom lock-off villas as well as one bedroom standard and one bedroom premium suites.  The lock-off villas offer two vacation options for owners – reserving one side of the villa at a time or reserving the entire villa for use with the entire family or friends.
The Westin Kierland timeshare resales are a part of the Mandatory Resorts collection which allows owners to participate in the StarOptions program – also known as the Starwood Vacation Network (SVN) and exchange into other Starwood Vacation properties.  If you are considering purchasing a Westin timeshare resale and like the idea of being able to exchange into other Starwood Vacation properties, you might want to consider purchasing a Westin Kierland timeshare resale at this resort or one of the other five Mandatory Resorts.
To review the 2017 Maintenance Fees, click on: Westin Kierland Villas 2017 Maintenance Fees
Click on the following link to get the exciting details about the opening of the newest Westin timeshare resort:  Westin Nanea Ocean Villas to open April 15, 2017
To read about the official opening of the Westin Nanea Ocean Villas on Maui, please click on:
Westin Nanea Ocean Villas is Officially Open
To review how Westin StarOption banking and borrowing works, click on: Westin StarOption Banking and Borrowing
Seasons and Weeks at this Westin timeshare:
Platinum Plus weeks: 1-21 and 50-52
Gold Plus weeks: 22-27 and 36-49
 Gold weeks: 28-35
Westin Starwood New Online Reservation Procedure
Westin Kierland Villas  – Villa Amenities
Separate living areas with sleeper sofas and a fireplace in the premium side of the villa
Built-in entertainment center in both living areas with 32" flat panel TV, DVD player and Bose Wave AM/FM/CD system
Separate dining areas in both suites with a breakfast bar on the premium side of the villa
Master bedroom features a king-sized Westin Heavenly bed and 27" flat panel TV
Guest bedroom features a queen-sized Westin Heavenly bed and 27" flat panel TV
Westin Heavenly Baths with whirlpool tub
Separate fully-equipped kitchen or kitchenette includes granite countertops, ceramic cooktop, microwave/convection oven, dishwasher, coffee maker, toaster, blender and dinnerware
Washer and dryer
Private balcony or patio with bench seating and coffee table
Wireless high-speed Internet access
In-room safe
Black-out lined drapery
Westin Kierland Villas – On-Site Amenities
Three heated outdoor pools include an activity pool with an 80 foot water slide, children's pool with interactive fountain and a relaxation pool
Whirlpool spa by each pool
Outdoor fireplace and fire pit
Barbecue grills with tables and chairs
WestinWORKOUT Fitness studio
Men's and women's locker rooms with showers
Sauna and steam room
Westin Kids Club
DVD rentals
Westin Kierland Villas – Dining
From Dawn to Dusk:
J. Swilling's Pool Bar & Grill at the adjacent Westin Resort & Spa is where you can relax with snacks, lunch, smoothies or a Cactus Cooler
Edie's Range House at the Kierland Golf Club is the place to grab a quick bite or sip a cool beverage when out on the greens.  Edie's serves express breakfast items and a complete lunch every day.
Breakfast, lunch and dinner:
McDowell Market & Grill off the lobby of the Westin Kierland Villas is open from 6am to 10pm daily serving breakfast, lunch and dinner.  You can stock up your refrigerator or choose between a grab-and-go dinner or in-room delivery.  Sodas, beer, wine, spirits and various other sundry items are also available.
Nellie Cashman's Monday Club Café located in the lower lobby of The Westin Resort & Spa serves breakfast, lunch and dinner daily.
Snacks all day:
Coffee Flats and Snowbowls, located by the main entrance of the Westin Resort & Spa is open daily from 6am to 8pm and features Starbucks coffee along with a selection of house-made breakfast pastries, cookies, biscotti and afternoon cakes to satisfy your sweet tooth!  You might want to try the locally made gelato, too!
Lunch and dinner daily:
Brittlebush Bar & Grill at the Kierland Golf Club adjacent to the resort serves lunch and dinner daily.  They are closed for dinner during the summer months.
Dinner only:
Deseo – Westin Resort & Spa's signature restaurant located across from Westwind Art Gallery on the lower level serves Nuevo Latino and New World Cuisines with an elegant open-kitchen atmosphere.  Open Tuesday through Sunday.
Bars & Late Night:
The Rim Lobby Lounge located on the lobby level of the Westin Resort & Spa is open from 4:00pm to 11:00pm and features lobby seating with views over Dreamweaver's Canyon and the mountaintops of Pinnacle Peak.
Waltz & Weiser Saloon in the Westin Resort & Spa's lower lobby is open daily from 11:00am to 1:00am and specializes in fine tequilas and whiskeys and offers an upscale bar and appetizer menu. This is where you can watch your favorite sports team on one of the flat-screen televisions, practice you billard game or enjoy some shuffle board.
Activities & Attractions nearby the Westin timeshare in Scottsdale:
Scottsdale Museum of Contemporary Art, Heard Museum North, Frank Lloyd Wright's Taliesin West
Pueblo Grande Museum, Desert Botanical Gardens, Grand Canyon Railway, Phoenix Zoo
Alltel Ice Den – a state of the art ice skating and entertainment facility
AZ on the Rocks – Arizona's largest indoor climbing gym
F1 Race Factory for four wheel fun indoor kart racing
Horseback riding at Cave Creek Trail Rides and enjoy a picnic at Phoenix Mountains Park and Recreation Area
Over 170 golf courses and more than 500 restaurants to choose from
A variety of shopping experiences are sure to tempt any Westin timeshare resale owner:
Explore Old Town Scottsdale with its rustic storefronts and wooden boardwalks
Desert Ridge Marketplace is Arizona's premier shopping, dining and entertainment destination
Scottsdale Fashion Square is the largest shopping mall in Arizona and the Southwest with 220 stores
Need more shopping?  Try:
Paradise Valley Mall in Phoenix or Arizona Mills in Tempe
Closest Airport to Westin Kierland timeshare :
Sky Harbour International Airport in Phoenix – 19.8 miles
For additional information, check out our videos and blog resources:
Video:
What to look for when buying a timeshare resale:
Blog articles:
Westin Starwood Right of First Refusal
Westin Timeshare Resales Purchasing or Selling
Westin Timeshare Resales – Mandatory Versus Voluntary Resorts
Starwood Vacation Ownership Spinoff Update
Timeshare Industry Continues Steady Growth 2015
Buying a Westin timeshare resale on the secondary market is much less expensive than purchasing direct from the developer because of the fact that the developer incurs marketing costs that are passed on to the consumer. It is the developer who sets the price on the retail market. On the secondary market of timeshare resale, prices are determined by individuals and current market conditions.
A timeshare interval should be purchased for enjoyment. The purchase of a Westin timeshare resale ensures that you will be able to vacation and spend quality time with your family and friends each year. You might want to think of it as vacation insurance for all your future vacations!
Syed Sarmad, Principal Broker for Advantage Vacation 
Buy a Timeshare