Timeshare Resales
| Price (Maint Fee) | Season (Weeks) | Annual/Bi-Annual | View | Size | Sleeps | Points | Details |
| --- | --- | --- | --- | --- | --- | --- | --- |
| $2500.00 ($510.00) | Red Weeks 1 - 52 | Annual | | 1 Bed 1 Bath | 4 | | |
| $1500.00 ($376.00) | Red Weeks 1 - 52 | Annual | | Studio | 2 | | |
Sand Pebbles is a delightful
California timeshare resale
complex conveniently located in Solana Beach approximately one block from the beach and only ¾ miles from the famous Del Mar Race Track and Fairgrounds.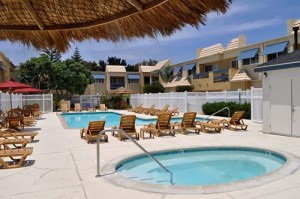 The timeshare resale resort consists of 14 studio units, 19 one bedroom units and 16 two bedroom units. The grounds are beautifully landscaped with unique and exotic tropical plants, a lush fountain area with tumbling waterfall, assorted palm trees and giant bird of paradise plants.The pool and spa area has chaise lounges, patio dining tables with chairs, umbrellas and two gas-fired BBQ grills.  This area is the central focus of the resort where family and friends gather throughout the day and evening to enjoy the mild Southern California beach climate.
Sand Pebbles is a non-smoking timeshare resale resort with a gazebo area designated for smoking. There are no elevators or air conditioning (fans are provided in all units) and there are no bath tubs in any of the recently remodeled and renovated units.  Bathrooms have beautifully tiled step in glass showers with grab bars.
Sand Pebbles California timeshare – Accommodations
All units have a full-size refrigerator, stove, microwave, coffee maker, blender, toaster, cutting board, dishes, numerous cooking utensils, pots, pans; hair dryer in the bathroom; spacious living and dining area and private patio or balcony with table and chairs.
Studios come with a queen size bed, some are Murphy beds located in the living area. There is a full bath and kitchen/dining area. Studios are a comfortable 460 square feet and can accommodate 2 people only. There are 10 on the first floor and 4 on the second floor.
One bedroom units have a bedroom with a queen size bed, a fold out queen size sofa bed in the living room, and one full bath, full kitchen/dining area. The one bedroom units are approximately 820 square feet and can accommodate a maximum of 4 people. There are 6 on the first floor and 13 on the second floor.
Two bedroom, one bath flats are all on the second floor and have one bedroom with a queen size bed, one bedroom with two twin beds, a sleeper sofa in the living room, and a full kitchen/dining area. These units are approximately 1,070 square feet.
Two bedroom townhouse – There are 12 two story, two bedroom, two bath townhouses with living room, dining room, kitchen, bath and sleeper sofa downstairs.  Upstairs there is a master bedroom with a queen size bed and a twin bedded room with an adjoining full size bathroom.
Sand Pebbles California timeshare – On-site amenities
Free wifi, swimming pool, spa, gas BBQ's, Billiard/Game room, Laundry room
Free hot dog lunch on Mondays July thru September
Note: Special arrangements have been made with the excellent fitness center located next door to Sand Pebbles, for unlimited use of their facilities at a discounted rate.  Frog's Fitness Center also has a health bar/cafe, clothing boutique, and a babysitting service!
Sand Pebbles California timeshare – Activities nearby
Sand Pebbles is located within easy driving distance of Southern California's most famous amusement parks and sightseeing attractions:
LEGOLAND
Disneyland
Sea World
Magic Mountain
Wild Animal Park
San Diego Zoo
Balboa Park
Universal Studios
Knott's Berry Farm
For additional information, check out our video and blog resources.
What to look for when buying a timeshare resale:
Buying a California timeshare resale on the secondary market is much less expensive than purchasing direct from the developer because of the fact that the developer incurs marketing costs that are passed on to the consumer. It is the developer who sets the price on the retail market. On the secondary market of timeshare resales, prices are determined by individuals and current market conditions.
A timeshare interval should be purchased for enjoyment. The purchase of a California timeshare resale ensures that you will be able to vacation and spend quality time with your family and friends each year. You might want to think of it as vacation insurance for all your future vacations!
Syed Sarmad, Principal Broker for Advantage Vacation 
Contact a Timeshare Specialist
Sell a Timeshare