The Residences at Park Hyatt Beaver Creek is a Hyatt Vacation Club Resort.  Today is our last day at the timeshare here and it has been a wonderful stay.  I would like to come back every year.
My son lives in Leadville which is about an hour from here and my brother came from Florida for a visit.  We all had a great time.
The only complaint I had was the pull out bed  in the living room was really to thin to sleep on.  Maybe it would have been o.k. for small children but not grown ups.  The unit was really wonderful.  They spared no expense in doing these units.  Having been in the timeshare industry for over 30 years and vacationed timeshare as long I have, I've been to many resorts and this is by far one of the nicest resorts.  And the fall colors have been full blown while we have been here!  What a treat.  I don't get that back on Maui.  One day we drove up to Leadville to visit Mike and go for a hike.  It was really beautiful there.
One of my personal favorites about this Hyatt timeshare is Allegria Spa.  If you are a timeshare owner you can use the aqua sanitas ritual as much as you want without charge.  It consists of a coed Thermae pool which is 102 degrees and is jetted.  This pool increases circulation, boosts metabolism and relives sore muscles.  From here you go to the male or female spa and indulge in the Caldarium mineral pools which is 104 degrees.  The mens and womans pools are infused with mineral salts to relax and relieve sore muscles.
The next treatment is the Cascata Rainshower.  You can choose cool or warm water and the deluxe showerhead rains down from the sky awakening the senses and providing an invigoration transition from the heated pools.  The next treatment is my favorite.  It is the Caldarium Steam Room which is 118 degrees.  The experience of heat, steam and light promote a feeling of total immersion.  The spruce scented steam will refresh and  recharge your senses. The last treatment, if you don't choose to repeat all of the above, is the Tepeidarim.  It is a lavender infused space and is a sanctuarty for rest and quiet.  Recline on contoured heated loungers in this serene setting. Allegria Spa offers many spa treatment as well as the aqua sanitas ritual.
I would say if you own a Hyatt or another high demand timeshare and are coming to Beaver Creek this is the place to stay.  I cannot imagine anything nicer.  The staff has been wonderful and you can walk to just about any kind of restaurant or activity.
Well, I better close soon and get ready to head for the Spa for my  morning water treatments.  Before I sign off I would like to share a photo of my grand dog Aoife.  She is just the cutest and smartest little girl.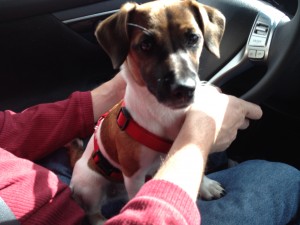 It has been really nice to get to know her and of course to see my son.
We are heading to the Aspen Hyatt next and we are looking forward to spending more time in Colorado.  What  a beautiful state.  I do get somewhat intimidated by the freeways.  Everyone drives 65 to 75 miles an hour and I am used to the rock I live on where the fastest one can go ever is 45 miles an hour.  It gets a little scarey here with the trucks whizzing by.  Colorado does have some great road systems and they seem in really great shape for a state where I am sure the winters are hard on the roads.  I could actually see living here but of course there is no snow on the ground yet only on the mountains.  Now that is another beautiful sight.  See you in Aspen!