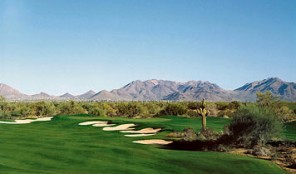 Unit Size/View:
2 Bedroom 2 Bathroom Lockout
Sleeps: 8
Price: $10,000
Maintenance Fees: $1230.70
Annual/Bi-Annual: Annual

More Info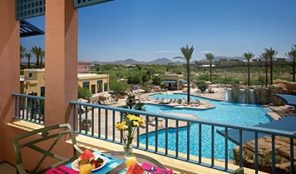 Unit Size/View:
2 Bedroom 2 Bathroom Lockout
Sleeps: 8
Price: $4,000
Maintenance Fees: $1230.70
Annual/Bi-Annual: Annual

More Info
There's a reason they call it the "Valley of the Sun." With a yearly average of 310 days of sunshine, Phoenix offers you plenty of time to enjoy invigorating outdoor activities while enjoying the beautiful Marriott Canyon Villas at Desert Ridge resort and the spectacular fire of Arizona sunsets.
This Marriott timeshare resale resort is located adjacent to the JW Marriott Desert Ridge Resort & Spa and offers spacious two-bedroom villas with fully equipped kitchens. The beautiful Arizona timeshare resort's proximity to Phoenix and Scottsdale allows for convenient access to a lively arts, entertainment and cultural scene.
Guests of this Marriott timeshare resale are invited to step up to the tee at Wildfire Golf Course, play tennis, or unwind at the two-level spa with 41 treatment rooms. There are four acres of waterways at Marriott Canyon Villas timeshare which include an adult lap pool, lazy river, and feature a pool with a waterfall.
Marriott Canyon Villas at Desert Ridge requires a fifteen day ROFR.
To view the complete list of Marriott Vacation Club Right of First Refusal Policies by individual Marriott timeshare resale resorts, click on: Marriott Vacation Club Right of First Refusal Policy List of Resorts
To view the 2017 Annual Fees at this beautiful Marriott timeshare, click on:
Marriott Canyon Villas 2017 Annual Fees 
To view the 2017/2018 Marriott Vacation Club Points chart, click on:
Marriott Vacation Club 2017/2018 Points Chart 
Marriott Vacation Club Benefits Chart
To review the history of Marriott Vacation Club timeshares through 2016, click on:  Marriott Vacation Club History and Update
Marriott timeshare resales at Canyon Villas – Villa amenities:
Luxurious and spacious two bedroom villas with select villas offering a lock-off option, enabling you to create separate units; one with a full kitchen, living and dining area and the other with a kitchenette.
Spacious living area with queen-size sleeper sofa
Dining area accommodates 6
Master suite with king size bed, oversize soaking tub and separate shower
Two fully furnished private balconies and patios
In-villa washer and dryer
Complimentary Internet access
Marriott timeshare resales at Canyon Villas – Resort Amenities:
Canyon Springs Pool Bar & Grill
The MarketPlace Express
Heated outdoor pools, whirlpool spas, children's pool and splash pad
Fitness Center
Daily activities programs for all ages
Marriott timeshare owners also have access to the amenities at the adjacent JW Marriott Desert Ridge Resort & Spa which include:
Wildfire Golf Club
Revive, a 28,000 square foot spa with 41 treatment rooms
World-class fitness center
8 court tennis pavilion with pro shop
A variety of dining venues
Marriott timeshare resale – Local Activities:
Learn about the fascinating heritage of Southwest native peoples at the Heard Museum.
Tour Frank Lloyd Wright's winter home and school of architecture, Taliesin West.
Visit Sedona, a four-seasons playground
Explore the world's finest collection of desert plants at the Desert Botanical Garden
Visit the Phoenix Zoo
During baseball season, catch the Arizona Diamondbacks in action at Chase Field ballpark
Want to cool off? Visit the Alltel Ice Den, a state-of-the-art ice skating and entertainment facility
For rock climbing enthusiasts, head to AZ on the Rocks, Arizona's largest indoor climbing gym
For four-wheel fun, experience the thrill of indoor kart racing at the F1 Race Factory.
Hikers of all experience levels can enjoy Camelback Mountain's stunning views of sheer red sandstone cliffs
For a different kind of adventure, try horseback riding at Cave Creek Trail Rides
Enjoy a picnic at Phoenix Mountains Park and Recreation area
To see more of the area's amazing sights, consider a scenic Segway ride, an off-road Hummer tour or a Wild West Jeep Tour
Stroll through Old Town Scottsdale with its rustic storefronts and wooden boardwalks
Explore Desert Ridge Marketplace, Arizona's premier shopping, dining and entertainment destination
Scottsdale Fashion Square is the largest shopping mall in Arizona and the Southwest, with 220 stores
Want more shopping?  Paradise Valley Mall in Phoenix and Arizona Mills in Tempe are just minutes away.
For additional information, check out our video and blog resources:
Video:
What to look for when buying a timeshare resale:
How to sell your Marriott timeshare:
Blog articles:
Marriott Right of First Refusal 2014 Update
Marriott Vacation Club Announces New Owner Benefit Levels 2015
Marriott Vacation Club Basic, Premier and Premier Plus Status Benefits Defined
Marriott's Legacy Weeks Resale Defined
How Marriott Destination Club Points Work
Marriott's Destination Club Points Resale Costs
Marriott's Destination Club Points Program resale and retail
Buying a Marriott timeshare resale on the secondary market is much less expensive than purchasing direct from the developer because of the fact that the developer incurs marketing costs that are passed on to the consumer. It is the developer who sets the price on the retail market. On the secondary market of timeshare resale, prices are determined by individuals and current market conditions.
A timeshare interval should be purchased for enjoyment. The purchase of a Marriott timeshare resale ensures that you will be able to vacation and spend quality time with your family and friends each year. You might want to think of it as vacation insurance for all your future vacations!
Syed Sarmad, Principal Broker for Advantage Vacation 
Buy a Timeshare