Timeshare Resales
| Price (Maint Fee) | Season (Weeks) | Annual/Bi-Annual | View | Size | Sleeps | Points | Details |
| --- | --- | --- | --- | --- | --- | --- | --- |
| $1500.00 ($998.00) | Red Weeks 1 - 52 | Annual | | 1 Bed 1 Bath | 4 | | |
| $2000.00 ($1298.00) | Prime | Annual | | 2 Bed 2 Bath | 6 | | |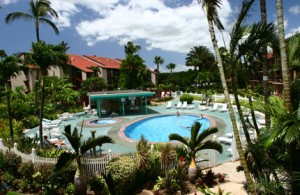 Kihei, on Maui's southwest shore, is the setting for this contemporary oceanfront Hawaii timeshare resale resort. The Maui Schooner's sprawling lawns lead to the tennis courts and the central courtyard where guests will find a pool, spa, and shuffleboard.The Maui timeshare resale at Maui Schooner Resort boasts a tropical, Hawaiian resort atmosphere. Relax in your one, two or three bedroom suite, spacious enough for a couple on a romantic getaway or for the family.
Maui Schooner – Accommodations
The Schooner's condominiums are equipped with a full kitchen, separate living room and all the amenities necessary for a comfortable stay at your home away from home.
Maui Schooner – Amenities on site
Outdoor swimming pool and whirlpool spa
Laundry facilities
Tennis
Maui Schooner – Activities nearby:
Beach and boat marina
Golf
Restaurant
Bicycle trails
FYI: The Hawaii 10.25% Transient Accommodation Tax (TAT) – which is paid at the time of check-out – has been extended to December 31, 2030.
For additional information, check out our video and blog resources.
What to look for when buying a timeshare resale:
Why you should use a real estate broker in Hawaii when buying or selling a timeshare in Hawaii
Buying a Hawaii timeshare on the secondary market is much less expensive than purchasing direct from the developer because of the fact that the developer incurs marketing costs that are passed on to the consumer. It is the developer who sets the price on the retail market. On the secondary market of time share resale, prices are determined by individuals and current market conditions.
A timeshare interval should be purchased for enjoyment. The purchase of a Maui timeshare ensures that you will be able to vacation and spend quality time with your family and friends each year. You might want to think of it as vacation insurance for all your future vacations!
Syed Sarmad, Principal Broker for Advantage Vacation 
Contact a Timeshare Specialist
Sell a Timeshare