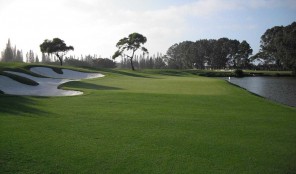 Unit Size/View:
1 Bedroom 1 Bathroom
Sleeps: 4
Price: $1,000
Maintenance Fees: $0.00
Annual/Bi-Annual: Annual

More Info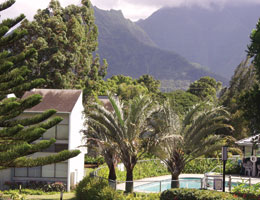 Unit Size/View:
2 Bedroom 2 Bathroom
Sleeps: 6
Price: $1,000
Maintenance Fees: $0.00
Annual/Bi-Annual: Annual

More Info
One of the more secluded Kauai timeshares is the beautiful Wyndham timeshare resale of Wyndham Makai Club situated on the sloping hillside along the 27-hole Makai Golf Course in Princeville.  The Wyndham timeshare resort is totally secluded and offers an intriguing blend of exotic island beauty and quaint country ambiance.
The breezy one bedroom units are furnished in traditional rain-forest rattan with spacious outdoor lanais that offer expansive views of the golf course and lush Hanalei scenery.  This Kauai timeshare is shrouded by towering Norfolk pines and lush tropical foliage – a true paradise on the "Garden Isle".
To find out why you should use a licensed Hawaii real estate broker when considering the purchase of a timeshare resale, click on:
Why you should use a real estate broker in Hawaii when buying or selling a timeshare in Hawaii
To view the Wyndham Makai Points Chart, click on: Wyndham Makai Club Points Chart
To view the 2016 WorldMark by Wyndham Discovery Member Resort Directory, click on: 
WorldMark by Wyndham Discovery 2016 Resort Directory
To review the 2017-2018 Wyndham Resort Directory Supplement click on:  
WorldMark by Wyndham 2017-2018 Resort Directory Supplement
To view the Wyndham Club Pass Supplement Directory, click on:
Wyndham Club Pass Supplement Directory
To view the 2016 Members Directory, click on:  
Wyndham 2016 Members Directory 
Wyndham timeshare resales at Makai Club – Suite amenities:
One bedroom, one bath units have a full kitchen, a balcony or deck and a washer and dryer
Units are cooled by the breezy trade winds and ceiling fans
All reservations are subject to Hawaii's Transient Occupancy Tax upon check-in
Wyndham timeshare resale at Makai Club  – On-site amenities/activities:
"Get Out & Play" Activities program
Outdoor swimming pools
Outdoor hot tub
Clubhouse
Picnic/BBQ Area
Wyndham timeshare resales at Makai Club – Local activities and sights to see:
Tour the Na Pali coastline by boat
Explore the Waimea Canyon
You might see humpback whales if you're vacationing December thru March
Visit Kilauea Lighthouse, built in 1913
Explore the Manini-holo Dry Cave across from Ha'ena State Park
Take a helicopter tour
There is also boating, fishing, horseback riding, scuba/snorkeling and hiking
For additional information, check out our video and blog resources:
Video:
What to look for when buying a timeshare resale:
Blog articles:
Hawaiian Islands Timeshare Development Update 2015
Buying a Wyndham timeshare resale on the secondary market is much less expensive than purchasing direct from the developer because of the fact that the developer incurs marketing costs that are passed on to the consumer. It is the developer who sets the price on the retail market.
On the secondary market, prices are determined by individuals and current market conditions. A timeshare interval should be purchased for enjoyment. The purchase of resales of Wyndham timeshares ensures that you will be able to vacation and spend quality time with your family and friends each year. You might want to think of it as vacation insurance for all your future vacations!
Syed Sarmad, Principal Broker for Advantage Vacation
Buy a Timeshare