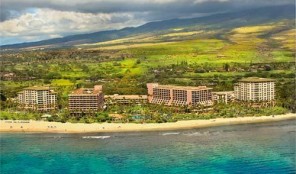 Unit Size/View:
2 Bedroom 2 Bathroom Lockout Ocean Front
Sleeps: 8
Price: $34,000
Maintenance Fees: $2452.08
Annual/Bi-Annual: Annual

More Info
Following you will find information regarding the Marriott Vacation Club 2017 Annual Fees at Marriott Maui Ocean Club – Napili Villas, a detailed unit description with villa amenities, floor plans, category views and seasons.
When you own in the Napili villas you have a deed to an oceanfront or island view unit and that's the building you'll get your reservation in.
Click on the following link to review the 2017 annual fees for a two bedroom lockoff villa and a three bedroom lockoff at the beautiful Marriott Maui Ocean Club Napili Villas.
Marriott Maui Ocean Club – Napili Villas requires a 15 day ROFR.
To view the complete list of Marriott Vacation Club Right of First Refusal Policies by individual Marriott timeshare resale resorts, click on: Marriott Vacation Club Right of First Refusal Policy List of Resorts
Marriott Maui Ocean Club Napili Villas 2017 Annual Maintenance Fees
Marriott Vacation Club 2017/2018 Points Chart
To review the history of Marriott Vacation Club timeshares through 2016, click on:  Marriott Vacation Club History and Update
There is only one season at this Marriott resort – High season.
Napili villa unit descriptions, view categories, amenities, etc.:
The Napili villas are located on the north side of the property. They were built after the Lahaina villas when Hawaii established a new 100 foot setback law therefore, the Napili villas are located a little further back but still very close to the ocean and to the beach.
Two bedroom villas sleep up to 8 and three bedroom villas sleep up to 10.
The Napili villas have two view categories: oceanfront and island view.
Napili villas has two bedroom oceanfront fixed and floating weeks, three bedroom lockoff fixed weeks and two bedroom lockoff island view units.
The two bedroom units are floating weeks and some have fixed weeks.
All three bedroom units are oceanfront in Napili villas and are fixed weeks in fixed units.
In addition, some two bedroom oceanfront units are fixed weeks in fixed units.
All units have full kitchens that consist of a microwave, cooktop stove, a washer and dryer in the living room part of the two bedroom lockoff.
The studio part of the lockoff has a full size refrigerator, a microwave, dishwasher and a kitchen sink.  There is no washer/dryer in the studio part of the lockoff.
Select 2 and 3 bedroom villas offer a lock-off option – enabling you to create separate units; one with full kitchen, living and dining areas and the other has a kitchenette.
Complimentary Internet access
View the following video to find out why you should use a licensed Hawaii real estate broker when considering the purchase of a Hawaii timeshare resale:
Marriott's timeshare resale at Maui Ocean Club  – Resort amenities:
Beachfront access, heated outdoor island pool with tropical grotto, waterfall and slide
Children's pool with pirate ship waterslide and sandy beach area, kids activity area and playground
Beachside cabanas and BBQ grills
Fitness center, game room Daily activities program for all ages
Access to the adjacent Ka anapali Golf Resort 3 miles from the historic town of Lahaina
Dining options:  Beachwalk Market & Pantry, Longboards and Poolbar & Grill
Marriott's timeshare resales at Maui Ocean Club  – Activities:
Play a round of golf at the famous Royal Kaanapali Golf Course, home of the Wendy's Champions Skins Game
The Plantation Course at Kapalua Resort, home of the SBS Championship (formerly known as the Mercedes-Benz Championship)
For the ultimate expedition, drive through five climate zones to the summit of Mount Haleakala to catch a magnificent sunrise
No Maui vacation is complete without a trip along the Road to Hana, a scenic coastal road that leads to the unspoiled paradise known as the "last Hawaiian place" and the tranquil Seven Sacred Pools
Take a catamaran cruise to Molokini Crater or Lanai and swim alongside colorful sea life
Set sail on a thrilling whale-watching excursion for an up-close look at majestic humpback whales
For additional information, check out our video and blog resources:
Videos:
Marriott Maui Ocean Club and Marriott's Destination Club Points Program Defined:
Marriott's Destination Club Points Program resale and retail:
Marriott's Destination Club Points Resale Costs:
How to sell your Marriott timeshare:
Blog articles:
Marriott Right of First Refusal 2014 Update
Marriott Vacation Club Announces New Owner Benefit Levels 2015
Marriott Vacation Club Basic, Premier and Premier Plus Status Benefits Defined
Marriott's Legacy Weeks Resale Defined
How Marriott Destination Club Points Work
Buying a Marriott timeshare resale on the secondary market is much less expensive than purchasing direct from the developer because of the fact that the developer incurs marketing costs that are passed on to the consumer. It is the developer who sets the price on the retail market.
On the secondary market of timeshare resale, prices are determined by individuals and current market conditions. A timeshare interval should be purchased for enjoyment.
The purchase of a Marriott time share resale ensures that you will be able to vacation and spend quality time with your family and friends each year. You might want to think of it as vacation insurance for all your future vacations!
Syed Sarmad, Principal Broker for Advantage Vacation.
Buy a Timeshare