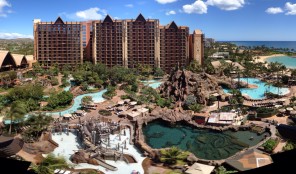 Price: $28,480
Maintenance Fees: $1018.70
Anniversary: March
Annual Credits: 320

More Info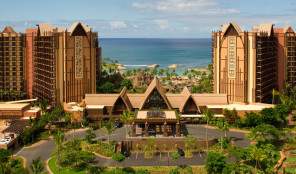 Price: $22,000
Maintenance Fees: $1546.53
Anniversary: March
Annual Credits: 220

More Info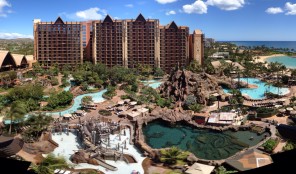 Price: $20,000
Maintenance Fees: $1405.94
Anniversary: December
Annual Credits: 200

More Info
To view the 2017  & 2018 Aulani Disney Vacation Club Points Charts click on the following link:
Aulani Disney Vacation Club Villas 2017 and 2018 Points Charts 
To view the 2017 Disney Vacation Club Resorts & Locations, please click on:
2017 Disney Vacation Club Resorts and Locations Update
Aulani, A Disney Resort & Spa is one of the resorts included in the Disney Vacation Club collection. The Disney Vacation Club is a points-based timeshare program owned and managed by Disney.
Aulani timeshare resort is perfectly positioned on 21 acres of Ko Olina beachfront on the western shore of O'ahu.  This beautiful Oahu timeshare resort is a part of the Ko Olina Resort Community and Marina which features a championship golf course, shopping, sports fishing and is just a short drive from all the action and activity of Waikiki!
The Aulani timeshare celebrates Hawaiian culture, history and traditions. From contemporary Hawaiian art and design to a wide variety of recreational activities, entertainment, excursions and more, Aulani immerses their owners and guests in the legends of the islands so they can experience the true enchantment of Hawai'i.
A recent major expansion included enhancements in the Waikolohe Valley pool area, additional deck space offering chaises, chairs and cabanas surrounding the new water features, two new quick dining locations and a new store Hale Manu featuring high end goods and gifts.
Aulani Disney timeshare owners can choose from luxuriously appointed studios, one or two bedroom villas, or three bedroom Grand Villas. Each villa at Disney's Resort Aulani offers spacious apartment like settings with outstanding amenities.

What is the difference between purchasing an Aulani Disney Vacation Club timeshare direct from Disney and purchasing an Aulani Disney Vacation Club timeshare resale on the secondary market of timeshare resale?
If you purchased a Disney timeshare prior to March 21, 2011, there is no difference between your ownership and one bought directly from Disney.
After March 21, 2011 however, there are three benefits that do not transfer on the resale market:
Aulani Disney timeshare resale buyers are not eligible to use their vacation points to make reservations in the Concierge Collection (hotels), the Disney Collection (cruises) or the Adventurer Collection.
If you're going to purchase a Aulani Disney timeshare resale you get all the other benefits exactly the same which include:
You can make your reservations up to 11 months in advance at your Home Resort – just like if you bought from the developer.
You can make reservations up to 7 months in advance at any other Disney Vacation Club timeshare resort.
The vacation points you purchase from a Disney Aulani timeshare resale can be used for reservations at Disney Vacation Club resorts, for RCI exchanges and Club Intrawest reservations.
You can borrow up to 100% of your points from your upcoming year but you have to use all of those points in this current year. You cannot put any of those unused points back into next year's usage.  So, if you're going to borrow points you have to do it in this current year, borrow it from next year and use all the points you borrowed this year.
If you are going to bank your points, you can do that and bank up to 100% of your points into the next year but you have to do that in the first 8 months of your use period of this year and you have to use all your banked points by the end of the next allotment or the next use period.
If you are purchasing a Disney timeshare resale and the anniversary dates vary so that you have two separate accounts (in other words two separate Disney accounts) you can still use those points to make one reservation.
However, if you are going to make a reservation for a single day at a Disney property there's a minimum of 10 points and you have to draw those points from only one account – you cannot use points from two different accounts for that single day reservation.


In addition, the following benefits also transfer on a Disney timeshare resale:
Disney's Discounted Annual Pass
Disney Vacation Club Members Dining Discounts
Disney Vacation Club Perks and Freebies – one of which Aulani owners enjoy – when staying at Aulani, check out Germaine's Luau—if you purchase an adult ticket, you'll get a child ticket for free (and save $52)! You can redeem your free child ticket at the Holoholo Tours and Travels desk.
Discounts on Excursions & Tours and again, Aulani owners enjoy 10% off a Standard or Premium submarine tour from Atlantic Submarines.
DVC Discounts on Recreation and Entertainment – These discounts range from 20% off golf lessons at Walt Disney World courses to free educational and entertainment programs for kids, available at most resorts.
DisneyVisa Rewards Program

What is the Right of First Refusal (ROFR) for Disney Vacation Club timeshare resales?
Disney has a "right of first refusal" (ROFR) policy.  ROFR is the option DVC has to purchase any Disney timeshare resale after a sales price has been agreed upon and a contract has been drawn up. Each contract must be forwarded to DisneyVacation Club for review. If the price is too low, Disney exercises their ROFR option and purchases the property themselves at the terms agreed upon by the Seller and original Buyer. DVC then becomes the Buyer.
Disney Aulani Timeshare  – Villa Amenities:
Flat Panel Televisions with DVD Players (in each bedroom)
Private Porches or Balconies
Queen Size Sleeper Sofa in each Living Room
Full Kitchens (not available in studio units)
Laundry Areas with Stacked Washer and Dryer (not available in studio units)
Whirlpool Tubs (not available in studio units)
Ceiling fans
Wireless Internet access
Iron and ironing board
Pack 'n Play playard

Disney Aulani Timeshare  – On-site Amenities:
Laniwai, a Disney full service spa offers spa therapies, hydrotherapy garden, outdoor mixology stations, family treatments and salon services.
Mikimiki Fitness Center is open 24 hours a day offering Life Fitness cardiovascular and strength training equipment, a Kinesis machine, free weights, a stretching area and yoga classes.
Painted Sky Teen Spa – the only teen spa in Hawaii is designed for ages 13 to 17 and offers spa treatments, activities, video games, a lounge, computer stations, daily teen-only events and evening programs for teens.
Waikolohe Valley invites owners to enjoy its crystal waters, winding streams, interactive play features and private snorkeling lagoon which are sure to delight everyone in the family!

Aulani Timeshare  – Beach activities at Makiki Joe's
Open from 8:00 a.m. to 5:00 p.m. daily
Beach Activities for families:
Authentic Hawaiian Sailing Canoe Experience
Ki'i One – Sculptures in the Sand
'Ohana Beach Games:  Toddler Time Splash and Play
Uncle's Kahakai Canoe Racing ('Ohana Version)
Beach Activities for teens:
NSBZ (North Shore Beach Zone) – Designed to evoke the essence of a "North Shore" experience, NSBZ welcomes teens to a fun-filled afternoon on the beach.
Sunset Mele – Teens are invited to gather on the beach at sunset for a festive celebration of music and  Hawaiian culture.
Beach Activities for the little ones:
The little ones can enjoy supervised fun in an oceanside setting at Aunty's Beach House. This state-of-the-art kids' club offers a variety of amusements, from Hawaiian games and hula dancing to Wii™ and Sony PlayStation® video games.

Aulani Timeshare  – Dining
AMA AMA is open for breakfast, lunch and dinner
Makahiki is open for breakfast and dinner
Olelo Room is a bar and lounge open from 5pm to 11pm for adults 21 and older
Off the Hook is an open air, beachside lounge open from 10am to 10pm for adults 21 and older
Wailana Pool Bar is open from 10am to 7pm and serves lunch from 11am to 5pm daily
NOTE:  Guests with food allergies or dietary requirements may be accommodated at AMA AMA and Makahiki.  Some of the restaurants can accommodate common food allergies such as gluten or wheat, peanuts, shellfish, eggs and others.  Most restaurants at the resort offer no-sugar added, low fat, low sodium and vegetarian options.

Quick Service Dining is offered at:
Ulu Café from 6am to 9pm daily
The Lava Shack from 10am to 5pm daily
Mama's Snack Stop from 11am to 6pm daily
Little Opihi's from 11am to 5pm daily
Papalua Shave Ice from 11am to 6pm daily
Poolside and Beach Dining services from 11am to 5pm daily
The Aulani Timeshare Resort is conveniently located only 17 miles from Honolulu International Airport.
Buying a Disney timeshare resale on the secondary market is much less expensive than purchasing direct from Disney because of the fact that the developer incurs marketing costs that are passed on to the consumer. It is the developer who sets the price on the retail market. On the secondary market of timeshare resale, prices are determined by individuals and current market conditions.
A timeshare interval should be purchased for enjoyment. The purchase of a Disney timeshare resale ensures that you will be able to vacation and spend quality time with your family and friends each year. You might want to think of it as vacation insurance for all your future vacations!
To view the Aulani, Disney Vacation Club Villas 2017 Points Chart, click on:
Aulani, Disney Vacation Club Villas 2017 Points Chart
To view the Aulani, Disney Vacation Club Villas 2017 Annual Fee, click on:
Aulani, Disney Vacation Club Villas 2017 Annual Fee
Want to compare what the difference is between purchasing a Disney, Hilton, Hyatt, Marriott, Westin/Vistana or Wyndham timeshare retail versus resale? Please click on: The difference between buying Disney, Hilton, Hyatt, Marriott, Westin/Vistana or Wyndham timeshare retail versus resale.
You may also enjoy reviewing several of our recent Aulani, Disney Vacation Villas updates on the spa, dining and guest services blogs:
Aulani, a Disney Timeshare Resale Resort Spa Update
Aulani, Disney Vacation Club Dining Update
Aulani, Disney Vacation Club Guest Services Update
Read the following blog to find out what you don't get on a Disney Vacation Club timeshare resale:
Disney Vacation Club – What you don't get on a timeshare resale
Syed Sarmad, Principal Broker for Advantage Vacation 
Buy a Timeshare